Cafezinho: Joao & Bebel Gilberto "Then & Now"
by Brazil Club - Let The Music Take You There on 06/05/2014 - 05:54 pm
Listen Live! On-Air Guide Chat Box Time Zone Converter
The Sounds of Brazil's streaming station makes workdays a breeze: Listen to The Midday Show, 9 am Central!
A year or two ago last week, Bebel Gilberto posted the picture below on Instagram, writing "Me and Dad. Amor! Immense Saudade! Thinking of you, counting the days until your birthday,"
Bebel is riding high with the success of her latest album 'Tudo' while her father – who is also the Father of Bossa Nova, and husband first to Astrud and now Bebel's mom, Miucha – will celebrate his 85th birthday today, on Friday, June 10th.
Recently João Gilberto decided to spend some time away from his Rio apartment overlooking the sea in Leblon, and has moved in to the elegant Copacabana Palace Hotel while dedicated himself to a new musical project (it would be his first sinc 2000). The hotel is not stranger to celebrity; known for hosting the likes of Mick Jagger, Gene Kelly, Nelson Mandela and Princess Diana.
And today, there is word of a new album from Bebel later this year, and perhaps with participation her dad? "If it were up to me,"said Bebel,"I would have made that album the day before yesterday!"
We'll celebrate during the Midday Show, with at least one Joao Gilberto song every hour, and right now with a small collection of images, then and now. Enjoy!
- Scott Adams
P.S. Do any of these images trigger a memory or two? Share them below!
Joao in concert, circa 1960's
Joao in concert, circa 1980's
Joao in concert, today
With Miucha and Chico Buarque, 1960's
With Miucha, 1980's
With Miucha, today
Miucha and Bebel
Bebel and her dad.
Miucha, Bebel and Joao Gilberto, 1960's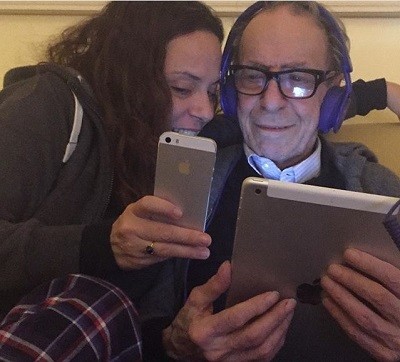 Leave your comment